Today's quotations:

"Thousands of geniuses live and die undiscovered – either by themselves or by others". Mark Twain
"For even that vulgar and tavern music, which makes one man merry, another sad, strikes in me a deep fit of devotion, and a profound contemplation of the First Composer; there is something in it of divinity more than the ear discovers". Sir Thomas Browne, Religio Medici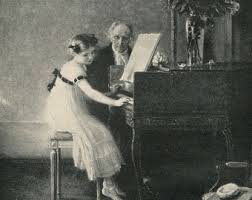 After all that I have written so far, you may say that I seem to be avoiding issues such as quality, excellence and talent in music. Not at all.
If you are 7 years of age, and first start to learn an instrument, you can plod along for a few months, in between school projects, playing basketball, Computer Club on Thursdays and visits to Grandma (who always has some nice sweets hidden away) and your teacher enters you for the Preliminary Examination in Recorder Playing, in which you just get a pass.
Meanwhile young Wolfgang Amadeus down the road has a professional musician father who is incredibly pushy, and spots that his kid has unusual talent. So he skips basketball, computers and Grandma, plays in the top spot in all the school concerts, and wins all the Junior Music competitions. He even gets gigs playing music for weddings, and still finds time to knock of the odd concerto, which then lies undiscovered for a couple of hundred years. Oh, and in passing, he knocks off Grade 8, getting 99%.
OK, a bit over the top, but I have heard some pretty amazing 7 year olds. The important point is that the same system is used by both. They proceed at their own rate, and go to the level that suits them.
As I said earlier, organising such a system might be complex – but what better way should we spend our working time and public money – writing off the savings of ordinary people by making wild speculations in the City ?
Today's message: In Music, at least, there is room in the system for both average (or less than average) talent, and outstanding gift. The system is there to facilitate and measure its expression. The real issue is the practical one how to enable all people to make these talents flower. You will be glad to hear that the authorities have in fact already addressed this problem. The answer is of course to stop instrumental lessons at school, and remove Music from an overcrowded curriculum. ("Sarcasm is the lowest form of wit" – popular saying)