is aged five months. Well, not really. The student is her mother, Rachel. She came for lessons about eighteen months ago, and one time, as she left, said she had met an interesting man…She then vanished for months. Then one day she got back in touch, to say that the young man had been so interesting that they had got together and were now the proud parents of Maya, a beautiful little girl (parents always say that – well, they would, wouldn't they, but in fact it's true). So she would like to get back to playing her guitar. However, there was a problem of child care, so could she bring Maya. I'll try anything (well, most things) once, so I said yes.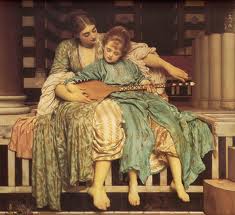 On the day Rachel arrived, looking very happy, with Maya, in her buggy, looking dozy at the end of a nice sleep.
As the father of three, I knew what was needed, so let Rachel settle Maya, who was a little uncertain about this strange man who didn't look at all like her father, but seemed to get on well with her mother.
We talked a bit about Rachel's news, the adoring grandparents (who weren't doing the babysitting, as one pair live in Australia and the other pair in New Zealand). Then we talked about what Rachel wanted to do guitar-wise, and picked a track on a compilation she had made for me. She had done this one before but wanted to start with something she knew. Rachel then took the guitar and tried to recall what she had done before.
But, of course, we are forgetting Maya, who decided that she was bored with sitting in a crummy old buggy. So we agreed that Maya would sit with me, while I watched Rachel play and advised.
For a few minutes this worked. Then it was clear that Rachel should get into another piece. So I "pass the parcel" back to Rachel, so that I can go to the CD player, listen to the track, decide on the main features to be learned, then play it again to point out to Rachel what I intend to do. I then play the first phrases we are going to learn.
Time to put down the guitar next to Rachel, take Maya, cuddle her and say nice words etc, between giving Rachel instructions. These are on the lines of "Play a chord of C. Strum 4 in a bar. We'll try this with the recording in a minute (remember Rachel is holding the guitar, and I am holding her daughter). Now I want to teach the phrase I showed you. Put your first finger, on string 5 at fret 1…"
Now presumably because Maya is an intelligent girl, but she isn't being allowed to play, she starts to get restless. We think that perhaps she needs Mum for a minute. Rachel puts down the guitar and comes to get Maya, at which point she realises that her darling girl has expressed her opinion about this new man in the time-honoured manner favoured by babies. Is it all right if she changes her ? I fully appreciate the problem, having had to deal with it many times myself, so I offer use of bathroom, and ask if she needs anything. I am delighted to observe that, though Rachel is new to the business, she is wonderfully organised (she has a bag with a changing mat etc) and has an ease of manner and competence which not only achieves the task brilliantly, but helps explain why Maya is such a happy little girl.
It was clear that Rachel was getting into the guitar tasks I was giving, and that she can be left to practice at home what we have done so far. So while she enjoys having Maya on her lap, I demonstrate what we are going to do next, do it again while I talk it through, and write down the relevant information.
Time for me to take Maya, who has decided that this old boy may look a bit weird compared to her handsome Dad, but can't be too bad, because it means her Mum can play the guitar to her, which she does at home. Also, being relieved of her burden, she can look around this room which is full of strange things and stranger noises.
Rachel gets on well, because my written instructions are very clear, though my writing, as ever, needs an expert in Chinese to decipher it. However, just as she is getting into it, Maya decides that time is getting on (it's about 4pm and teatime) so her mind moves to that other permanent interest of babies. She starts to turn toward me, and nuzzle up to me, and, as I have noted this lack of discrimination in babies for the first few months, I wonder whether to say "Sorry, wrong type!", but hesitate to do so, as I don't know Rachel that well. However, with her calm and quietly assured manner, she asks if it will be OK to feed Maya. I have no problem with this, as all my children were breast-fed, as were various nephews and nieces. (I was appalled to read in our local paper last week a letter ranting against Mums who fed their babies in public, comparing it to "fornicating or urinating publicly").
This is a time for calm, so I answer a couple of guitar queries from Rachel, and make the decision not to overload her with Part 2 of the piece, but otherwise we talk about her new life, how she has been able to find other Mums in the same position close by, and so on.
Maya is now happy to go into her buggy to have a little rest after her exertions, while Rachel recaps on what we have done, and we discuss the next moves. Then Rachel sets off into the world again to get onto the Tube system (difficult enough with a buggy) before the Rush Hour.